Launching Ceremony of CambodiaTrade E-Marketplace
2022-03-31 14:00:00.0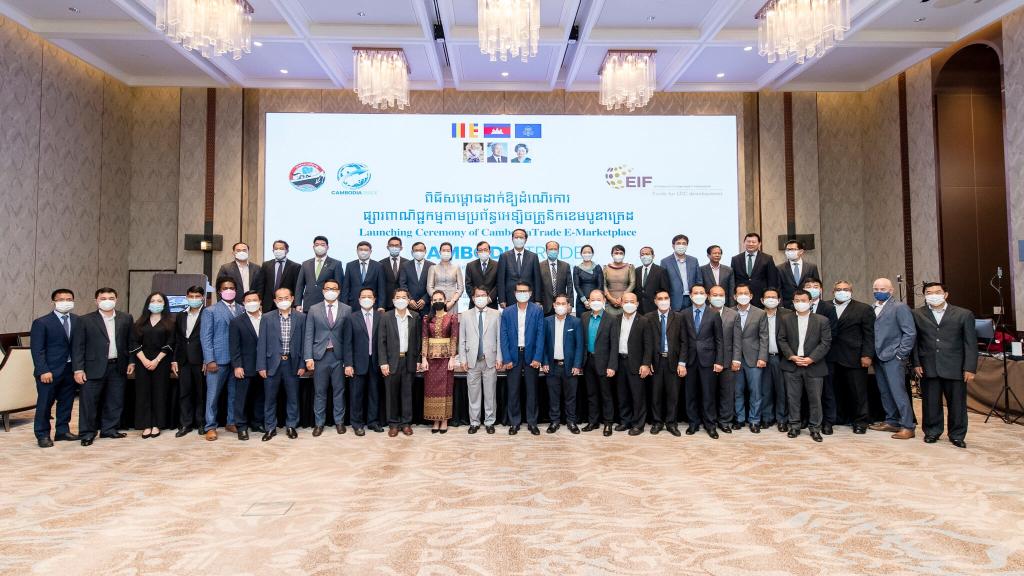 Phnom Penh, 31 March 2022: The Ministry of Commerce launched a B2B2C e-marketplace (CambodiaTrade) offering Made-in-Cambodia Products for both domestic and international market. This event was presided over by H.E. PAN Sorasak, Minister of Commerce with the participation from relevant line ministries, private sector, association representatives and development partners in Cambodia.
The Royal Government of Cambodia through the Ministry of Commerce has placed a strong emphasis in recent years on strengthening the country's e-commerce ecosystem including regulatory framework and strategy such as passing the E-commerce Law in 2019, a set of sub-decrees to ease registration for e-commerce-based businesses, the Consumer Protection Law to protect the rights of online shoppers and businesses, and the E-commerce Strategy to provide policy options in each of the most important issues in e-commerce. Therefore, Cambodia's e-commerce sector has grown exponentially in the last decade and the enhanced support comes as the COVID-19 pandemic has forced many more businesses to move online. E-commerce is seen as crucial to ensure a full, rapid and sustained economic recovery for the country. This launching ceremony of CambodiaTrade is at the right time to witness the substantial development of e-commerce in Cambodia.
The CambodiaTrade e-marketplace is the main component under the Go4eCAM Project, which is financially supported by the Enhanced Integrated Framework (EIF) and the Royal Government of Cambodia for a 3-year implementation by the Ministry of Commerce until June 2023. The Go4eCAM Project is the e-commerce key initiative with the objective to increase economic opportunities for Cambodian SMEs to participate in the Digital Economy. One of the important outcome is to accelerate the adoption of B2B2C e-commerce platform for domestic and cross-border trade by Cambodian SMEs with a focus on digitalization of MSMEs as well as support to provincial and women-owned SMEs.
CambodiaTrade, operated through a platform "cambodiatrade.com", is a fully integrated e-marketplace with a number of payment and logistics services providers so that the customers and SMEs will have more options for purchasing products and selling the products for both domestic and cross-border markets. In terms of payment service providers, CambodiaTrade is fully connected with Wing Bank, ABA Bank, Bakong and ipay88 and several potential banks requesting to integrate with CambodiaTrade are Canadia Bank, Chip Mong Bank, Ly Hour Pay Pro and Phillips Bank. Regarding logistics service providers, CambodiaTrade is fully integrated with DHL Company and Cambodia Post and expected to work with more logistics companies to increase the shipping options for vendors and customers. More options in terms of payment and logistics will be available for both customers and SMEs. The Ministry of Commerce rolled out CambodiaTrade for SMEs pre-registration in mid-June 2021 by providing a fully integrated platform that allows them to reach a broader market in Cambodia and overseas, granting access to the growing digital economy. Until March 2022, more than 100 SMEs have been approved with more than 1,000 product listed, displayed and ready to do their business operations in CambodiaTrade in which around half SMEs are women-led and provincial.